The IBM Maximo Health, Safety and Environment (HSE) is a Maximo Add-on that provides a set of applications and processes to improve and increase safety, reliability, environmental, and operational performance in compliance with regulations and certifications. Reducing the risks of operations to maximise the asset investments and maintain a safe environment are some of the main objectives of this Add-on. Maximo HSE focuses on key business processes or activities such as Operations, Asset and Work Management, Control of Work, Investigation and Improvement, Change Management, Compliance and Knowledge Management. Figure 1 shows the Major Business Processes covered by Maximo HSE.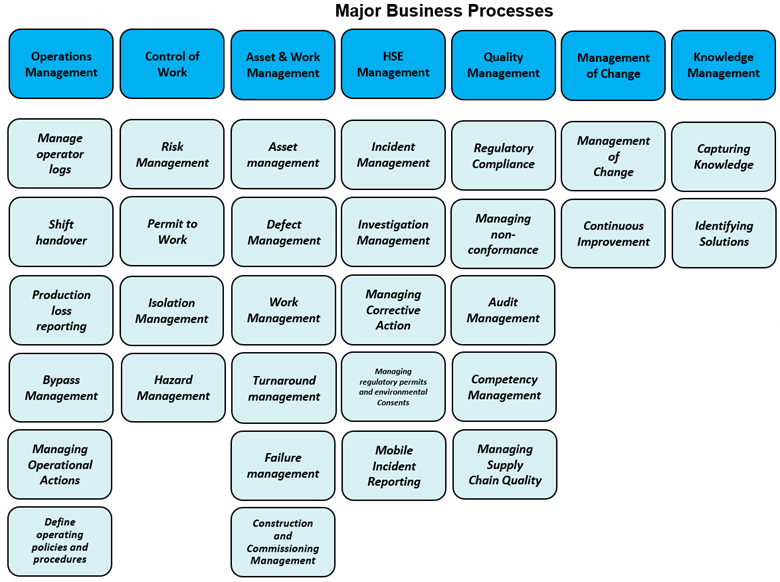 To understand how Maximo can assist with the HSE capacities and operations, I listed a few main applications with an overview and, later, a diagram to show how these applications interact.
Incidents

: Having a Mobile Incident Reporter application, the Incident application allows you to create, review, and analyse the near miss or incidents, recording people and their roles, losses and impacts, multiple injuries and illness, and support of fulfilling an OSHA 300, 300A, and 301 reporting requirements at the end of the incident process.





Investigation

: Provide a structured process to address unresolved defects and incidents to prevent or minimise the impact of future similar defects or incidents. It offers a root cause failure analysis (RCFA), 5 whys analysis, FMECA, and Human Factors to drive the investigation better.





Defects or Non-conformance

: Provides non-conformance management capabilities designed to automate, manage, and streamline for identifying, evaluating, reviewing, and handling non-conforming engineering specifications, materials, components, parts and processes. A non-conformance can be created due to an audit to address and manage the compliance issue properly.





Regulatory Compliance

: Identifies regulatory compliance against assets and locations and associates job plans and work orders to these regulations to ensure compliance. Manage the enterprise guidelines, standards, and legal requirements applicable to assets, employee health, the plant's safety, and the environment. Can reduce the costs associated with compliance.





Operation Procedures

: Provide for documenting structured, step-by-step operating procedures rather them relying on unstructured text files. This approach better integrates operations and maintenance resources.





Operating Policies

: A governance application for structuring the company's operating policy and maintenance strategies. An operating policy integrated with work management, management of change and other asset management applications improves collaboration across operations, maintenance, HSE, and engineering resources.





Management of Change

: Support change requirements in a more robust way with multiple levels of reviews and approvals, authorisation of change, risk analysis, and pre and post-start actions.





Risk Assessment

: Designed as an iterative document that links all associated HS&E activities and organisational data. By integrating location, assets and equipment, job plans, work orders, and management of change records with hazard identification, the risk assessment application provides a comprehensive solution for managing risk, improving safety, reliability and compliance. Each risk assessment will calculate consequence, likelihood, severity, risk ranking, risk-based priority, mitigated risk ranking and mitigated priority to help users assess overall risk.





Risk Matrix

: Create both probability and consequences of events matrix supporting the Risk Assessment process.





Improvements

: Manages continuous improvement programs like Six Sigma or similar methodologies. Maximo HSE provides an enterprise standard and better practice for capturing improvements at all levels and domains. It is an application to document the planned and actual costs and benefits of improving a business process or plant configuration.





Competency Management

:

Improves competency assurance through capabilities for adding, modifying and updating workforce competencies. Associating competency requirements to permit and certificate requirements and identifying and validating competency requirements against job plans and work orders.





Operator's Log

: Used by shift operators for recording and qualifying all types of events or incidents which occur during an individual's watch. The application tracks shift staffing, plant operating parameters, log entries, and associates qualifying data to an individual plant or piece of equipment.





Personnel Certification Tracking:

Ensures that employees have the proper skills to safely and efficiently perform their jobs. The application maintains a complete history of all personnel job roles, certifications, training, and current qualifications. It automatically alerts and notifies upcoming training requirements, expiring certificates, or re-training needs. It also aligns qualification requirements to work tasks to enforce safe work standards. Integrates with HR systems to boost Maximo's capabilities for Asset Management and Maintenance Planner departments having up-to-date information.





Action Tracking

: Provides a vehicle for ensuring the findings and recommendations of internal and external surveys, audits and assessments, and vendor notifications are managed and tracked to closure by the agreed dates.





Benefits & Losses

: Capture benefits associated with improvements or costs related to incidents, failures, surveys, and audits. It captures benefits for proposed solutions or costs related to planned or unplanned activities or events and provides insight into areas for improving operations and safety.





Bypass Management

: Manage bypass operations, also known as inhibits or overrides, for safety-related systems such as Emergency Shutdown, Fire and Gas Systems, Alarm Panels and soft alarms on DCS systems. It can also be used to manage bypasses of mechanical systems such as sprinklers. A further use case is the management of security system bypasses.





Certifications

: A certification record contains the details to verify that standards for assets or locations are met. They can also be used to ensure that personnel are qualified for specialised tasks, such as performing work in a Confined Space or High Height.





Permit to work

: A permit to work provides for the effective management of hazards in the workplace. The permit to work is a vital tool to maintain communication between the plant operation team, the planners and the workers performing the tasks. The permit to work allows you to manage templates for frequent tasks, control simultaneous operations, extend a permit, associate to a more complex isolation management or plan lock out or tag out, and implement a process workflow for reviewers and approvers, issuers and acceptance to release the permit.





Audit and Survey

: Audits are used to evaluate compliance with industry-related or internal regulations. Audits or surveys can be performed to assess locations and assets for regulatory compliance or organisational process improvements.





Isolation Management

: Supports the scenario where customers want to manage isolation separately from a permit. Fully integrated with the permit to work if required. The De-Isolation step offers a view of common isolations to check for permits and other isolation certificates sharing common isolations.





Assets and Locations

: Extension to the out-of-the-box asset and location applications adding the Failure Modes, Effects and Criticality Analysis (FMECA) and Reliability Centered Maintenance Analysis (RCM)
The diagram below indicates how some of these main applications can be linked with each other: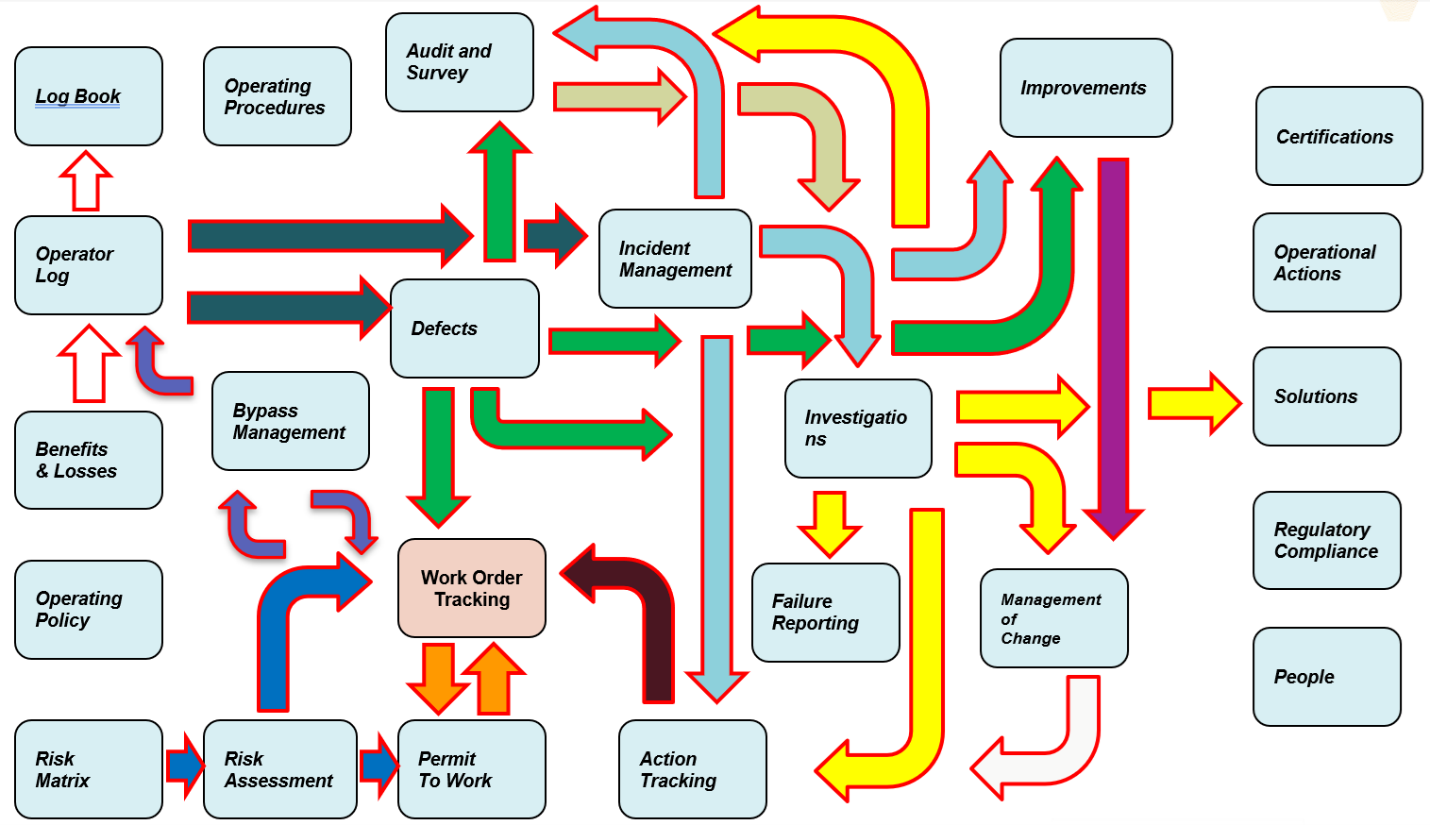 Maximo HSE Add-on offers a complementary set of applications to create and manage records and processes related to plant, human resources, and environment safety, helping companies track and improve the workplace while in compliance with regulatory authorities. Furthermore, an important factor for customers to extend their use of Maximo to HSE is that both work management and HSE department management share the same physical asset structures and human resources. Some customers use different asset structures for HSE systems, which may cause many issues when reporting incidents or other HSE-related artifacts and much more work to manage all these relationships. Another factor is the ability to integrate maintenance and operational process once many incidents originate from the work performed by the maintenance department.
Some evidence suggests that supporting the ability of maintenance, engineering, and operations to work jointly, using shared processes, enhances organisational performance in safety and reliability, which can easily be achieved with Maximo HSE as it uses the same base upon Asset Management.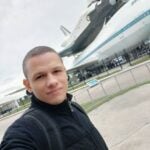 Maycon Belfort