I was recently involved in preparing a business case for a Maximo implementation, and as a part of process I spent considerable time analyzing and evaluating the best approach. In essence, I was trying to find the optimum balance between minimizing the length of the implementation, whilst satisfying mandatory requirements. In my opinion, getting to go-live as quick as possible has as much impact on the project success and return-on-investment (ROI) as anything else. Integral to the business case was a BPD Industry Accelerator. With the Industry Accelerator the project length was halved, without compromising on achieving mandatory requirements. In fact, because the Industry Accelerators have been tailored over many years and similar Maximo implementations have occurred, the outcome is expected to deliver a better result rather than designing from scratch.
What are the benefits of using Maximo Accelerators?
Cost Savings: A shorter project means that there is less time invested in the project. In addition, the benefits can be realized earlier too, as you cannot realize benefits before the application has gone live. This reduces the total cost of ownership and results in a quicker ROI.
Better Design / Better Solution: The Industry Accelerator comes preinstalled. Therefore, the project team can spend more time focusing on fine tuning the design to achieve a better solution.
Reduced Complexity: Introducing complex systems and processes at the implementation stage rarely gains full adoption. In fact, it only makes embedding the change much more difficult. This often leads to data issues, inefficiencies, and user disengagement. Correcting this often requires a significant investment in training, and sometimes a full redesign of the solution. The Industry Accelerator comes with years of learnings to provide a simple solution that works.
Continuous Improvement: Getting the basics implemented, adopted, and embedded quickly provides a great platform to continuously improve. User engagement for an application is much greater when it is simple and meets expectations. In addition, users are much more receptive to future changes. Therefore, the ability to realize benefits and an ROI earlier often helps release additional funds for improvement.
What are BPD Zenith's Industry Accelerators?
BPD Zenith (BPD) have taken the experience from many similar implementations and developed Industry Accelerators. These accelerators are changing the way Maximo implementations are done. For example, the Industry Accelerators come with a range of best practice elements installed as part of the Maximo installation. This includes: pre-populated industry specific master data, pre-configured business process flows (including specific applications), role-based dashboards and a range of specific and general functional and security improvements.
The processes that underpin the functionality are efficient and well tested across many organizations. This results in significantly reducing the implementation time frame, increasing the user adoption and a faster ROI. In addition, they also provide the peace-of-mind that they represent best practice on a global scale.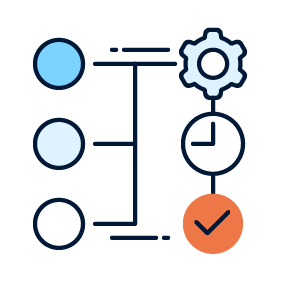 Already using Maximo? Check this out!
If you're already using Maximo but want to take advantage of best practice functionality and pre-configurations, you could check out BPD's Industry Accelerator Essentials. The Essentials package includes popular functionality all packaged up. Then, it is all ready to be installed on to your existing Maximo installation. This includes functionality such as:
Drag and Drop.

Users can attach multiple files to a record by dragging from one window into Maximo.

User Profile Delegates.

This allows the user to set their delegate from the user profile dialog where they change their default site.

Workflow Admin App Enhancements.

This allows support to quickly search for workflow instances by Work Order/ PR number etc. rather than workflow ID.

Gallery Tab.

Adds a Gallery view for showing image attachments and PDFs on the screen in Maximo without opening new tabs.

Query Manager.

Allows the editing of queries created by other users. Then, consolidates it all into one app and identifies those used on start centers.

Safety Bulletins.

Create, manage, and review Safety Bulletins.

Work Order Purchasing Summary Tab.

View a summary list of all purchasing (PRs and POs) associated with a work order in one place, and link through to specific PRs/POs from the work order.

People App Enhancements.

Enhancements that simplify the process of creating new people.

Master Data (Crafts, Units of Measure, Currency Codes and Work Types)

Industry standardized lists of data for common master data such as Crafts, Units of Measure, Currency Codes and Work Types.
We invite you to learn more about some of the functionality included in our Essentials Package: click here for a demo on Drag and Drop and click here to learn about Query Manager.
Finally, to check out BPD's Industry Accelerators visit this page on the BPD website: https://www.bpdzenith.com/bpd-solutions/maximo-accelerator/s

Hayden Oliver
Hayden is an Account Manager for many of BPD Zenith's key Australian clients. He is a qualified CPA accountant with a background in Finance, Business Improvement, Maximo and Account Management and brings all these skills and expertise to provide Asset Management solutions to organizations. He has an approach that centers on building strong long-term partnerships and providing solutions that deliver continuous value. Personal interests include tennis, Australian Rules Football (AFL) and the Hawthorn Football Club, coffee and exploring different cuisines and restaurants.