London Array Limited (LAL) maintain a critical electricity production wind farm in the Outer Thames Estuary.
Lucy Horner (then Maintenance Strategy Engineer) joined the AiTalks podcast last year to discuss her world of offshore wind provision, the levels of integration, planning, safety and compliance necessary to 'keep the lights on' for consumers, and how the role of IBM's Maximo enterprise asset management (EAM) platform is a key pivot for the team to be proactive and on top of resilient operations.
Lucy provides some great graphic descriptions of the challenges of accessing turbines in poor weather conditions, logistics of managing engineers, tools, and work orders – all supported by Maximo. It is an inspiring story of how data can create extrinsic value for wind farms.
London Array – one of the world's leading offshore wind farms
Located 20km off the north Kent coast in the Outer Thames Estuary, London Array has a 630MW capacity and generates enough clean electricity to power around 500,000 British homes, while displacing around 900,000 tonnes of CO2 a year. It is maintained and operated from the Port of Ramsgate where the Asset Integrity team plan maintenance strategies and works to ensure effective asset and operational management.
London Array remains one of the largest offshore wind farms and paved the way for the current generation of even larger wind farms being built around Britain's coastline. LAL face unique challenges because of its vastness – with 175 turbines to keep upright, working and generating! There is a huge level of complexity of assets within a turbine with different levels of hierarchy and subcomponents – gearbox, blade, cable etc.
Life before/after using digital platforms to transform operations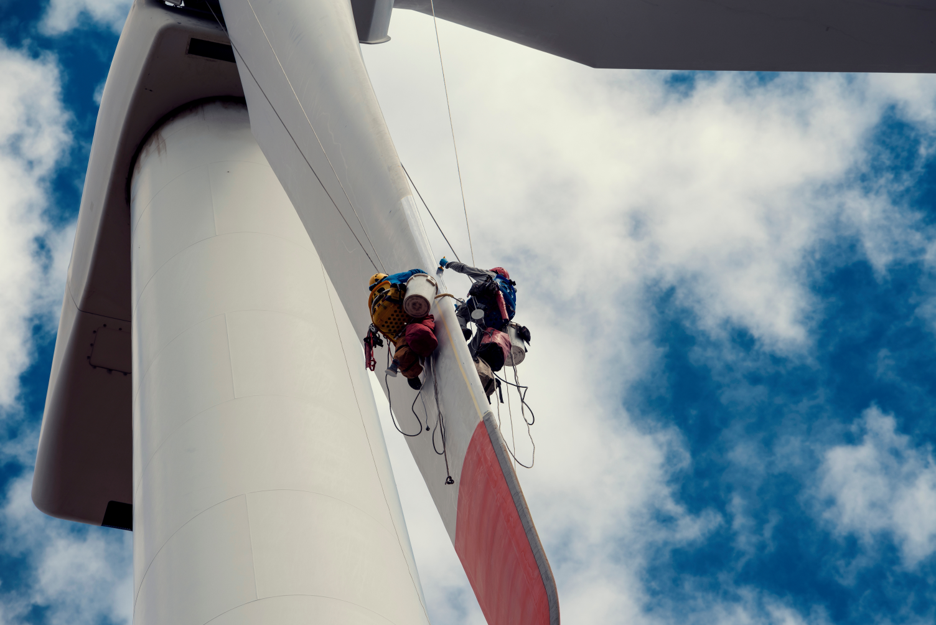 LAL have come a long way from using spreadsheets and paper-based systems for work management and inspections. With digital tools like Maximo and in-house software, LAL can now import data into a system to visualise it, slice and dice it and compare it. This helps the team to plan better. With one business intelligence system (made up of lots of different software), LAL can easily look at everything in context such as planning difficult logistics to get people offshore. Facilitating technicians to an offshore turbine can be very difficult – considerations include sea depths, crew transfer vessels, and weather conditions. Bringing all this data together is one part of the puzzle. On top of that, on the work management side, Maximo helps to validate that LAL has the right work documentation in place before sending anyone offshore, that they capture the right data and make the right decisions. It remains an ongoing process for LAL as they continue to learn and try to digitise.
AI in Offshore Asset Management
Lucy describes how digital intelligence is used to complement human experience, not replace it. For example, LAL is reliant on skipper vessels to navigate wind conditions, but they support that experience with sensor data by using trackers on board to monitor the route in the field. The field is vast (about the same size as central London) and can take a vessel an hour to make the journey. They do not fly because it isn't far out enough to sea. Different options are dependent on weather, water depth, sea current, wind speed, wave height etc. They are building trends to suggest suitable routes for the future and hope to get to a point where the system is augmented with AI to say don't take this route based on previous learnings. Delivering technicians safely without any seasickness and returning them home from work in the same condition they left is a priority.
Offshore HSE Compliance & Industry Regulation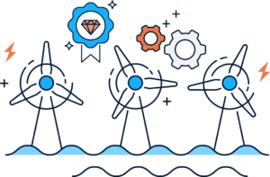 LAL also use digital tools to ensure HSE and show an audit trail of safety. They keep people safe by validating competencies and experience with job plans in Maximo.
This includes attaching approved documents and stipulating fields – type of work, location, work coordination group – and then using that reference to copy to the work order. This is pushed into another system to cross reference with competencies and validate that the technicians scheduled have the correct certifications to be qualified for the job.
The industry is heavily regulated by the government and drives a big part of LAL's inspection/maintenance regime. For example, they must inspect safety and lifting equipment including harnesses to access the turbine annually – delivering people safely. The equipment clips would protect the techs if they fell from ladder. Historically, LAL was missing inspections because they didn't have a single source of the truth about the expiry date and stickers on the equipment would often go missing. If the deadline was missed, the equipment could legally not be used. It is not a production critical asset but if a gearbox needed attention, then you would need this clip. Now, with a very good WMS in Maximo, LAL can record inspection dates and expiry is managed and planned effectively. If the equipment is not ok, they can take remedial action. This all has a huge knock-on effect in accessing turbines safely.
The Future of Offshore Wind – Digital Twins
LAL are looking at modelling to help predict weather forecasts and conditions for each turbine. They are modelling fatigue life of the turbine's foundations which is inaccessible because of its position in subsea which is less practical to inspect than above sea (accessible by ladders and lifts).
The lifetime of a turbine according to design assumptions is about 25 years, but Lucy hopes to be able to extend this. To do so, LAL needs to understand the actual life of the asset as it is now. Visiting turbines annually isn't always cost effective so they are considering models, sensors, and seabed movement to see how this affects the life of the turbine. They have also successfully implemented remote drone inspections for blades as physically inspecting them is an awkward and expensive challenge! Drones fly around the scale of the blade and take images every few seconds to create 3D images for defects and categorise the severity.

Exciting stuff! BPD Zenith have worked with London Array for many years now and are continuing to help LAL to make better use of its operational data.
If you'd like to know more about BPD in Offshore Wind CLICK HERE for downloads, blogs and further industry information. If you'd like to speak with me about Offshore Wind, Renewables, IBM Maximo, or any other related topic, please use the links at the bottom of the page – we'd love to hear from you!
Helen Fisher
As the Marketing Manager at BPD Zenith, I enjoy sharing IBM Maximo stories and being an active member of the user community. I am particularly interested in asset management beyond traditional maintenance - integrating Business Intelligence, Asset Performance Management, the Internet of Things (IoT) and Asset Health... exciting stuff! The Business Development element focuses on Oil & Gas and asset health monitoring across all other asset intensive industries, helping BPD continue the momentum in this space. I would love to chat more about how I can help you and your business. In my spare time, I love spending time with the family, cooking, running, yoga, travelling and music.