SSC Water & BPD Zenith – Smart Work Scheduling in Water Utilities
South Staffs & Cambridge Water – a large water supply company in the United Kingdom, helps reduce resource costs and increase performance after selecting IBM Business Partner BPD Zenith to implement their IBM Maximo upgrade.
Water Utilities: South Staffs & Cambridge (SSC) Background:
Headquartered in Walsall, West Midlands, England, South Staffordshire Water (South Staffs Water) supplies high-quality drinking water to approximately 1.3 million people and approximately 35,000 commercial customers over 1,500 square km in the West Midlands, South Staffordshire, South Derbyshire, North Warwickshire and North Worcestershire areas.
The company consistently achieves its twin objectives of delivering high levels of customer service and low charges. Household customers have some of the lowest bills in England and Wales, while benefiting from the highest levels of customer service, as measured by its regulator Ofwat.
SSC Water – Business Needs in Water Utilities:
South Staffs and Cambridge Water was using IBM Maximo version 7.1 and an in-built system called Waterworks to manage its maintenance and overall asset management. As part of a major upgrade project, the client was looking to merge all maintenance routines into one central enterprise asset management (EAM) system, while updating that system and processes to ensure continued support and compliance in line with company policy and industry guidelines.
South Staffs Water opted for a managed approach by leveraging BPD's MaxiCloud Solution. This offered South Staffs Water more flexibility and support, allowing them to host Maximo on their own infrastructure, while accessing BPD's range of MaxiCloud enhancement tools, integrations, and add-ons, facilitating the potential benefits of IoT solutions. This would ensure both time-to-value, licensing and implementation costs would be fully optimized, to accelerate and increase ROI.
South Staffs Water could then take advantage of some of the latest technology and applications to optimize emergency/routine maintenance management and improve performance. This also gave the client the opportunity to modernize some of its ways of working those other previous versions could not cater to because of lack of functionality, such as mobile and scheduling.
Although the client already had two mobile solutions in place (Syclo & EZMaxMobile) and these were sometimes used to send out jobs and corresponding information, different areas had different processes, so jobs and information would often be delivered to engineers by email and over the phone. This was a very time consuming and inefficient use of resources, especially in tracking the progress of work, which was also a manual process.
Allocated jobs and Work Order information could only be 'completed' and updated in Maximo at the end of the day when the engineer returned to base, meaning they had to rely on notes and memory to update the Work Order accurately in Maximo. South Staffs Water wanted to align these processes and minimize the resource-heavy, manual input required, through automation and one single, effective mobile solution.
It was important to the client that it could provide the right data and information to the right people on the team, conveniently and securely. By incorporating an effective mobile solution, not only would the work information and job plans be easier to access, It could also drive a range of other improvements and enhancements, both for the engineer and to benefit performance/maintenance managers.
BPD's Solution Implementation:
Working with IBM Business Partner BPD Zenith, South Staffs Water upgraded to IBM Maximo EAM 7.6.1.1. to connect its workforce with a mobile solution that would help improve data management and could take advantage of the latest techniques to help reduce resource costs and increase performance/completed job output.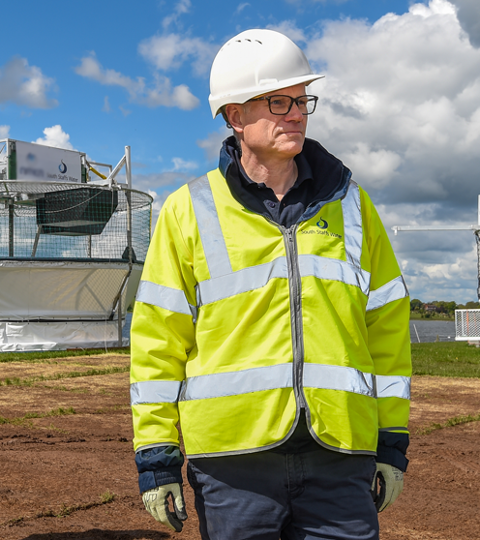 BPD Zenith began the project with a 'discovery phase' approach to learn how South Staffs Water was using IBM Maximo, and what it would like to improve going forward. Consultants at BPD Zenith accompanied South Staffs Water engineers to see first-hand how maintenance tasks were carried out and completed, as well as how the work is documented and managed in its computerized maintenance management system (CMMS)/EAM system.
BPD Zenith then looked at how this interaction with IBM Maximo translates to a smaller mobile screen. Desktop Maximo has plenty of 'real estate' to display a lot of information but with a mobile device, this has to be much more focused to ensure the essential information is clear and accessible. Simply 'mirroring' a desktop does not make for a pleasant/efficient user experience; instead, the user applications need to be configured to suit user needs by:
Eliminating unused options that take up valuable screen space

Making the essential fields/functions appear at the right time

Aligning process, terminology, etc. with desktop with a familiar look and feel – easy to access and use.
BPD Zenith leveraged the latest functionality from IBM Maximo and IBM Maximo Anywhere, along with IBM Maximo Spatial Asset Management, IBM Maximo Scheduler Plus and its associated applications (such as Graphical Scheduler, Graphical Assignment, Optimization Engine and Appointment Books) to offer an effective work prioritization solution. This considers service-level agreement (SLA) and engineer availability and incorporates manual appointment bookings, to automatically generate Work Orders and assign to the next available field service engineer efficiently.
BPD Zenith configured the associated IBM Maximo Scheduler Plus applications as follows:
Graphical Scheduler

was implemented to allow the manual scheduling of work, along with resource levelling. It is used as the 'in the future' planning tool, with work being moved as appropriate for the coming weeks.

Graphical Assignment

is used to manually assign work to individuals based on skills, craft and availability for the coming days

Optimization Engine

will optimize work based on 'priority,' 'target start date,' 'target finish date,' and 'start no earlier than' and 'finish no later than.' The optimization engine will move work orders where possible and automatically assign the work to engineers. The client has the optimization engine configured to look at the next three days of work and optimize/assign that work accordingly.

Appointment Books

allows the client to manage appointment types, the number of available appointments and the appointment slots within IBM Maximo. Appointments are within a four-hour time slot and the optimization engine respects these commitments using the start no earlier than and finish no later than constraints on Work Orders. In addition, Appointment Books have been modified for South Staffs Water so that a fixed, more precise time-slot can be given to a customer if required, so instead of the standard four-hour time slot, customers can be given a precise appointment window based on the time required to perform the task associated with the appointment.
Benefits achieved
BPD Zenith's configuration of the IBM Maximo Scheduler Plus applications was significantly effective with these results:
South Staffs Work completed jobs increased from approximately

3.5 per day to 6.5 per day.

(However, mileage also increased considerably incurring additional travel time/costs)

Optimization and SLA adherence have reduced response times to attend investigative jobs by

20%

Optimization is increasing the accuracy of the work dispatched – a

26% reduction

in cancelled work orders

Approximately

20% increase

in Jobs dispatched to Customer Network Technicians (First line field response) – from

4.5 work orders to 5.5 work orders per day.
When South Staffs Water removed predesignated geographical boundaries/areas, team productivity doubled. While this demonstrates the level of efficiency the system is capable of driving, it had a significant impact on operations while trying to keep up with the system. Changes are being made to enable the client to operate to this capacity, driving optimization even further.
The new solution helps South Staffs Water improve data management and could help it take advantage of the latest techniques to help reduce resource costs and increase performance/completed job output.
Lessons Learned:
The number of jobs an engineer could perform were now optimized and automatically assigned; output increased dramatically, but the system was not considering the geographical location of the jobs and the travel that would be required between them – engineers would often have to return to the same remote location in the same day – this led to complaints from field-based resources and increased resource/fuel costs. BPD had to find a more efficient way of doing this…
The next step in the SSC journey was to integrate the optimization engine with Spatial / GIS so that the system could consider the location of jobs and the travel time between them. This will alleviate travel time issues and minimize fuel consumption while providing the same or even better performance from field resources.
By harnessing the GPS capabilities of engineer's mobile devices, and by leveraging IBM's Spatial Add-on for Maximo, Mark Parfitt – Developer at BPD Zenith, incorporated Spatial into the Work Prioritization project, configuring this to integrate with Bing/Google/Esri Maps and Scheduler Plus.
Spatial allows you to connect Bing/Google/Esri Maps to assets and work, to dynamically visualize the spatial relationships between your assets and mapped features, such as roads, buildings, pipelines, etc. By integrating Spatial and Bing/Google/Esri Maps with the optimization engine, distance and journey time data can then be considered as part of the prioritization and allocation process.
Next Steps for SSC Water
BPD continue to support SSC to be fully optimised along the road to Predict. Understanding the state and condition of their critical assets at any given time would allow SSC to manage and avoid potential supply problems and loss of service, while improving maintenance strategies and resource requirements.
LoveYourAsset connects SSC's Underground Water Logger devices, to leverage the following data in Maximo:
Pressure

Flow

Turbidity

Chlorine Levels
By integrating LoveYourAsset with Maximo, SSC Water have a complete understanding of asset performance across their distribution network. They are aware of potential issues without having to rely upon customer response – issues can be auto-processed in a timely and accurate manner:
Automatically raise work orders in Maximo when an issue occurs.

Track Individual/Grouped Logger performance by location, criticality, SLA, etc.

At-a-glance live 'health scores' and instant alerts.

Share/schedule reports to identify data trends and predict failure.
To find out more from BPD about the SSC project, Maximo Application implementation and upgrades, or LoveYourAsset, we would love to hear from you! You can get in touch with us HERE
Don't forget to subscribe to receive the latest blogs, news and industry updates from BPD!
Rick Scott
Rick is a Senior Consultant at BPD Zenith UK and also do a lot of work as an Engineer. His favourite part of the job is working with clients to understand the requirement and the best fit solution. Rick enjoys walking the dogs, playing computer games and playing around with FPV Drones.