UK's NATO Commitments Threatened by 'Broken Military Procurement Programme'

The committee's deputy chair says the UK may 'struggle' to maintain its essential contribution to NATO if the MoD does not swiftly address the 'fragility' of its supply chain, replenish its stocks, and modernise its capabilities...
(Source: SKY NEWS – Deborah Haynes Security & Defence Editor: Wed 19 April 2023)
Sir Geoffrey Clifton-Brown, deputy chair of the Public Accounts Committee said: "If the MoD does not act swiftly to address the fragility of its supply chain, replenish its stocks, and modernise its capabilities, the UK may struggle to maintain its essential contribution to NATO.

He added: "Neither taxpayers nor our armed forces are being served well. There needs to be a meaningful change in this broken system. The department needs to break from this cycle of costly delay and failure and deliver a fundamental, root and branch reform of defence procurement."
This article brought media focus to the challenges the UK Defence Industry faces on a daily basis in meeting the ever more complex needs of a supply and demand economy.
Addressing Supply Chain Bottlenecks with Digital Solutions
Shortages in the supply chain and shrinking budgets can of course put a strain on any infrastructure and is not just limited to the Defence Industry, nor is the UK in isolation, it's a global phenomenon. Similar concerns have been felt over the last 3 years in manufacturing, across most Industry sectors. Anyone who has tried to purchase a new vehicle in the last 24 months can attest to that and it has been highly profiled in the media.
There is no 'magic bullet' that will fix this issue in its totality overnight, but there are proven digital solutions that are already out there, and in use, that can significantly alleviate the impact of supply chain bottlenecks and address 'costly delays'.
We replace parts because they fail and quite often parts fail because they have been badly maintained - consider the positive impact on the supply chain if we were able to make our assets perform at their peak for longer. This would also have a positive impact on our carbon footprint while reducing costs, allowing budgets to go further.
The Benefits of AI & IoT Technologies for Asset Management
Through the use of AI & IOT technologies, assets can be more effectively managed. It is now commonplace to monitor and detect anomalies and predict failures, which has the impact of improving asset availability, reliability and utilisation, extending the useful life of an asset and improving the return on investment. This in turn allows for the deferment of new purchases and alleviates strain on the supply chain.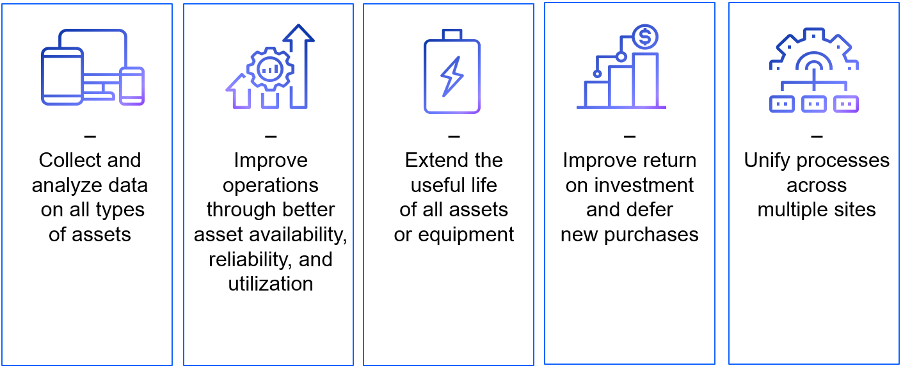 Following the implementation of IBM Maximo Application Suite (MAS) Enterprise Asset Management software, clients reported the following benefits:


Up to 50% decrease in unplanned downtime by understanding the failure history


Labour cost savings of up to 60% by looking to AI and Automation for real-time condition monitoring through IOT and sensor technology.


A further 20% improvement in productivity was achieved by adopting the MAS Mobile solution, putting critical work and asset information into the technicians' hands, and ensuring assets are fixed on the first trip.
Retaining Valuable Knowledge Resources in the Face of an Ageing Workforce
IBM® Maximo® Application Suite - Assist - Providing technicians with AI-powered guidance, through a knowledge base of equipment maintenance data, with remote access to expert resources for assistance when it is most needed!
Another significant issue raised in the article was the impact on the government's ability to retain defence staff, particularly in high-skilled areas such as technology, given the value of public-sector salaries is being eroded...
For many organisations, an ageing workforce, heavy turnover and complexity of asset management are significant problems to overcome, especially within government bodies and the manufacturing industry.
Following research in their client base IBM established that typically 30% of the workforce is retiring, additionally, there is a 32% average turnover in staff. Lack of skill can also lead to safety incidents which contribute to potentially huge losses - in 2019 in the US, the cost of safety instances reached $170B.
The increasing complexity of assets and the requirements around maintaining and managing them creates a conundrum. How do you balance the cost and investment with the level of risk and performance?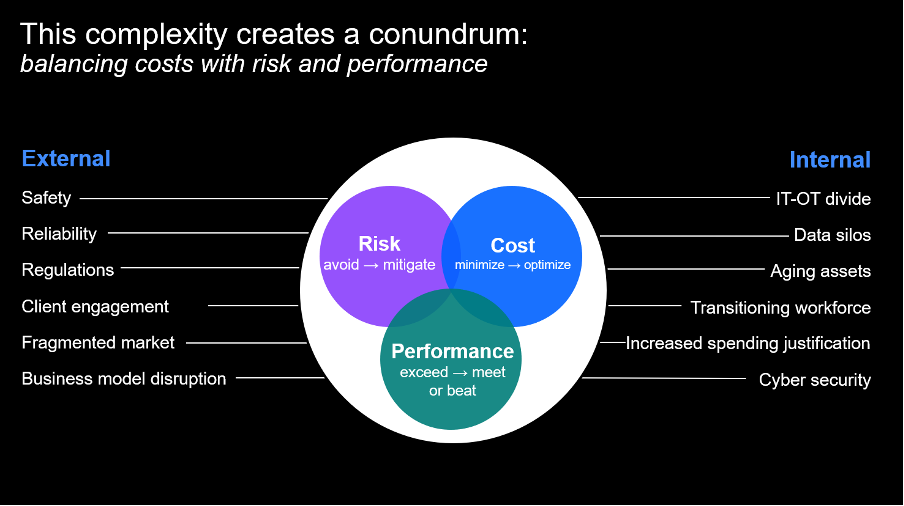 This slide shows some of the external and internal factors pulling and threatening to push things out of balance. There are responsibilities externally to your clients, providing a reliable safe service or product, meeting regulatory requirements, and keeping up your market position. Internally the battle with fragmented data and teams – the push between Information Technology (IT) and Operational Technology (OT), the ageing assets and workforce and how to get the investment needed to meet all the changing demands from infrastructure to systems and security.
How IBM Maximo Application Suite (MAS) Helps Alleviate Supply Chain Strains
By adopting an asset management solution such as IBM MAS with monitor, predict and visual inspection functionality, a new employee with little previous experience can be fully effective and productive in their tasks almost from the 'get-go'. All maintenance and operational procedures are monitored and recorded, alongside helpful hints & tips to facilitate knowledge transfer, the information no longer disappears when an employee leaves.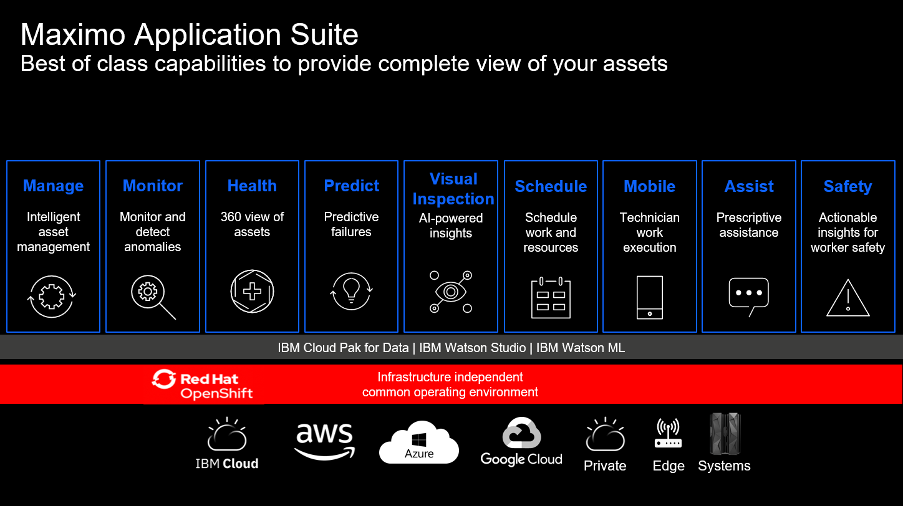 So, by working smarter: we can all 'do our bit' to alleviate the strain on the supply chain and safely retain our valuable knowledge resource, despite a transitory and retiring workforce. Our carbon footprint can also be improved through improved efficiencies and significant cost savings can be realised.
Learn how Toyota adopted IBM MAS and how it transformed its manufacturing environment...
If you'd like to learn more about anything from this blog, CLICK HERE to get in touch with us - we'd love to hear from you! Alternatively, you can BOOK TIME WITH CLIVE to discuss any of the points further and discover more about how MaxiCloud - with IBM Maximo at its core - has helped our clients to tackle Supply Chain issues in Defence, Manufacturing, Healthcare, and many more...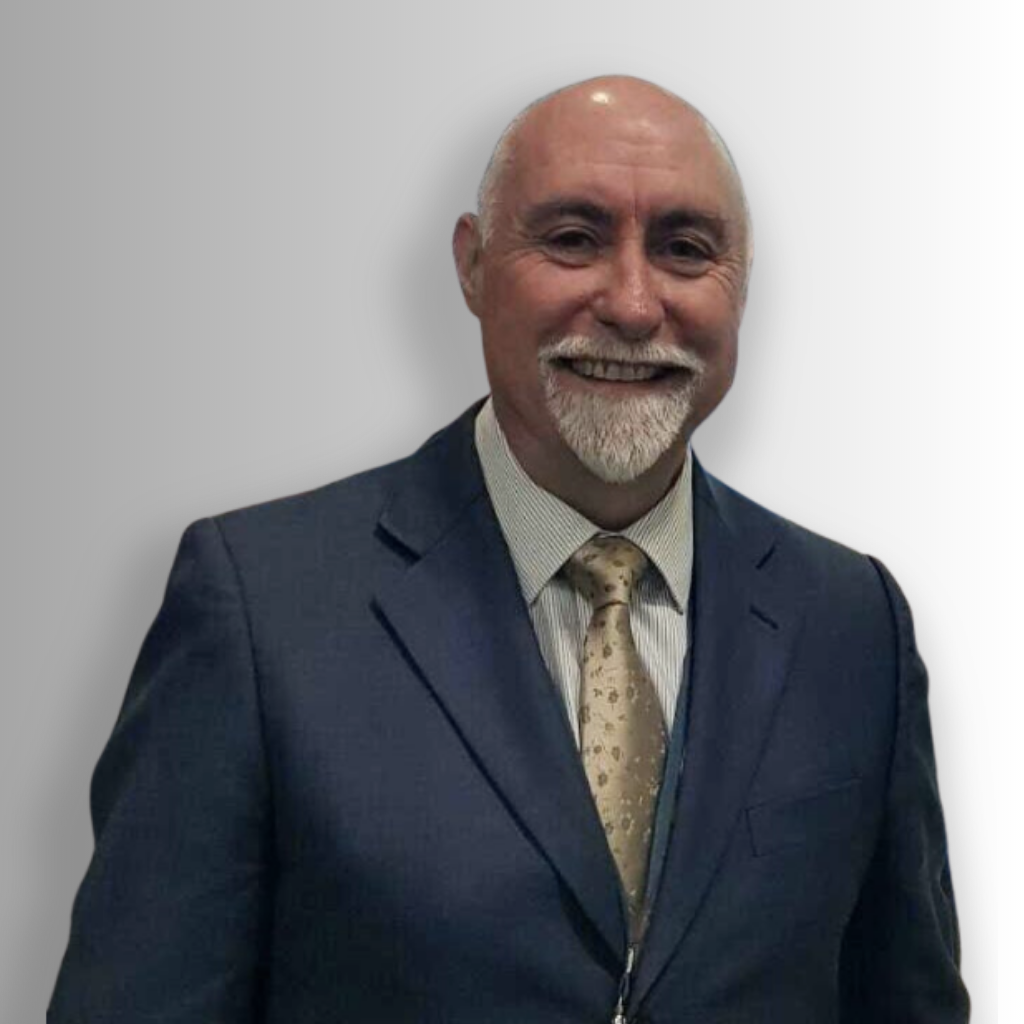 Clive Walker
Clive Walker is an experienced professional with a focus on the Aerospace & Defence and Auto Manufacturing industries. With over 20 years of experience, Clive strives to help industry and commerce maximise the performance of critical assets. He is an advocate for sustainable and environmentally responsible practices in asset management, and is driven with a passion for identifying inefficiencies and implementing digital solutions that improve performance and productivity